It's not always easy to properly budget for the things you need, let alone want in life. And finding the right balance between the two can prove challenging for many women. However, when it comes to gym memberships, not having enough money is not an acceptable excuse. In fact, it's no excuse at all.
Health Benefits of Exercise
You can't turn on the news or browse the Internet long these days without stumbling across a recent story on the benefits of exercise for healthier living. The CDC lauds the virtues of physical activity for reducing risks of cardiovascular disease, strengthening bones and muscles, improving mental health, increasing balance, reducing the risks of cancer, aiding in weight control, and reducing the risks of developing type 2 diabetes. That's a pretty impressive collection of benefits.
A recent USA Today article and Reuters carried recent reports of a study that found that "Physical activity may be as effective as medications for preventing early death in some people who've had heart attacks or strokes."
The bottom line is that exercise is highly beneficial to human health – mentally, physically, and emotionally.
Making Room in Your Budget for Gym Memberships
It's not enough to just say you wish you could get to the gym and then grumble that it's too expensive or you don't have enough money. It's not an option. It must become a priority. Following are a few small changes you can make that will give you plenty of wiggle room in your budget to accommodate a gym membership.
Use cash for store purchases. It's very easy to whip out the credit card and swipe at restaurants, grocery stores, and retail shops. It's a different story when you're counting out the cash to pay for those purchases. It makes you much more aware of where your money is going each month.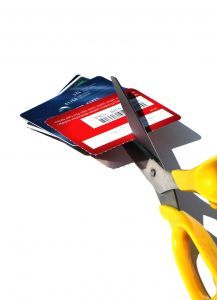 Make it a habit to use cash instead of credit cards.
Master the fine art of couponing. It takes time to catch on, but you can save your family 20 to 50 percent on many food, health, and beauty purchases.
Use budgeting software. Not only does budgeting software show you where you're spending your money each month, but it also gives you the tools you need to help see areas where spending could be massively curtailed.
Negotiate for lower insurance rates. Home, auto, and life insurance can add up to a hefty chunk of your monthly income. Consider the frequency of accidents, the age of your children, and changes in jobs and more over the past year and try to negotiate lower costs by bundling, raising deductibles, and possibly reducing the total coverage (within reason).
Compare cellular plans. Perhaps it's time to break up with your mobile carrier. It might be nice to get those deep discounts on new phones every year or two, but those discounts come at a steep cost in monthly fees. Consider pay-as-you-go cell phone plans, which provide substantial savings.
Skip the afternoon coffee run. It's not a friend to your figure (if taken with cream and sugar) nor your pocketbook.

Skip the afternoon coffee and replace with a run at the gym.
Bring lunch to work. it's a small step that can save you huge amounts of money week after week. Even cutting back one day a week can carve out a nice chunk of that gym membership price.
Use your public library. This is an excellent resource for books, eBooks, audio books, music, DVDs, and even entire seasons of television shows. Stop paying for these things when you can go to your library and borrow them for free.
Reduce or eliminate your cable commitment. Each month, cable television accounts for a significant amount of your disposable income. You can watch many television programming online or invest in devices and services such as Roku, Apple TV, or Netflix to make up the difference.
Try meal planning and/or freezer cooking. This reduces those midweek fast food runs that ruin your waistline and blow your budget week after week.
Embrace your crockpot. Crockpot cooking is a great way to have dinner ready when you get home after a long day at the office. It reduces spoilage and helps reduce the temptation to call the pizza delivery guy after a long day at the office.
With tips like these, you shouldn't have any problem fitting your gym membership into your budget. However, before you sign up, make sure you take advantage of things like weekend passes and freebie weeks at the gym to make sure you sign up with a gym you're actually comfortable using. Some gyms offer limited memberships, which you can combine with free walks around your neighborhood and taking the stairs instead of the elevator. Also look for gyms that offer short-term membership and pay as you go plans where you pay for your actual visits rather than the privilege to come and go at any time.
Freelance writer Elizabeth Magill is an author who writes articles, blog posts, news stories, guides, and ebooks on a variety of topics, including health, medical, and many business topics.