Preparedness is everything when you're a new parent, and we have ten fantastic recommendations for products you will not want to be without when baby comes!
Crib
Baby needs somewhere to sleep, and preferably it's not your own bed for very long! A crib is a must-have for new parents. This is going to be baby's home and safe sleeping quarters for a good while to come.
Baby Monitor
You'll want to be able to grab your eighth cup of coffee of the day with ease, but you may be hesitant to leave your baby to take a snooze in her new crib. A baby monitor will allow you to move freely about your house with the ability to monitor baby's every sound.
Bibs
Food is going to be everywhere. You can trust that. In baby's hair, in yours, all over baby's body…bibs are a nice way to keep at least some part of your baby's food from getting all over her clothes and then yours. Think of bibs as a catcher's mitt of sorts for food of all sorts!
Rocking Chair
This is another furniture essential for baby's room, as baby is not going to be in that crib full time. A rocking chair allows for a soothing rocking motion to help put your baby to sleep. It is also a welcome seat for Mommy while she feeds the baby or simply tries to put baby to sleep.
Baby Bullet Blender by Magic Bullet
Puree fresh baby food in seconds for your little one with the Baby Bullet blender. Food from a jar is no longer necessary with this phenomenal tool. Baby will get so many wonderful nutrients as a result.
Stroller
This one is a no-brainer. You want to get out of the house but keep your back in tact, correct? Buy a stroller and not only will your back thank you, but baby will be soothed to sleep (we hope!) with the smooth motion of a stroller during long walks.
Diapers.com
Diapers on demand, anyone? With free shipping and typically overnight shipping on orders of $49+, this website is going to be one you frequent.
Drive baby around safely with a car seat booster. Every new parent needs one (and the training to know how to use it!).
Keep baby safer in the bath with a bathtub divider!
Photo credit: jako-o.com
A Bathtub Divider
Keep baby closer and safer with a bathtub divider. It makes your own bathtub infinitely safer for baby, and keeps baby in much closer range to you.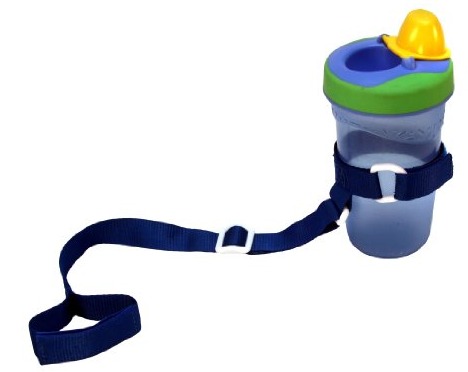 Keep that Sippicup secure with Booginhead's SippiGrip
Photo credit: Booginhead on Amazon
SippiGrip
Booginhead's great product will help keep baby's Sippicup from hitting the floor when she inevitably knocks it over. This allows for a cleaner Sippicup and less bending over for tired Mom and Dad!
In short, there are many helpful tools and products new parents can utilize to make those first days of parenthood easier. With a little preparation and a lot of hard work, being a new parent will be amazing!
Cara Aley is a freelance writer who covers a variety of topics ranging from digital marketing strategy to health and wellness.